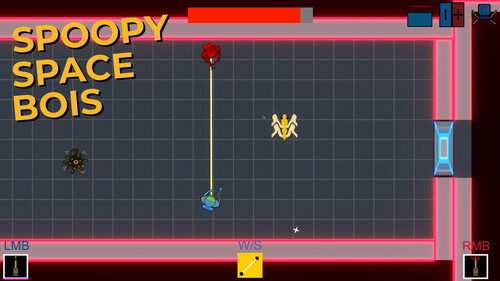 New Features

New neon aesthetic (for the walls, crates, floors, explosive barrels, lightning, and spikes) to provide players with a more immersive environment and futuristic spaceship feeling.
New invincibility frame animation that better displays when the player has taken damage and for how much longer they can go without getting hurt again.
New shield animation around the player to let them know when they are protected from taking a hit.
Juicier health bar complete with a better themed regenerative shield animation and shake effect when damaged.
Polished challenge room with extra large alien to include three different attack patterns based on its health.
Reworked puzzle to incorporate both player mechanics forcing the players to split the players up.
Refined puzzle room to prevent softlocks and improve maneuverability.
Removed jumping alien bug that made them invulnerable to the tether attack.
Removed jumping alien bug that stopped them when interacting with movable crates.
Improved transitions, starting, and ending screen polish.
Going Forward
We learned a lot working on this game and hope you have as much fun playing it as we had creating it!
From our playtesting, we decided to add a hint for the puzzle room:

Pink
Hold Green
Cyan
Release Green
Hold Blue
Release Blue
Hold Yellow
Release Yellow
Purple
Hold Green
Pink
Release Green
Cyan
White
Builds